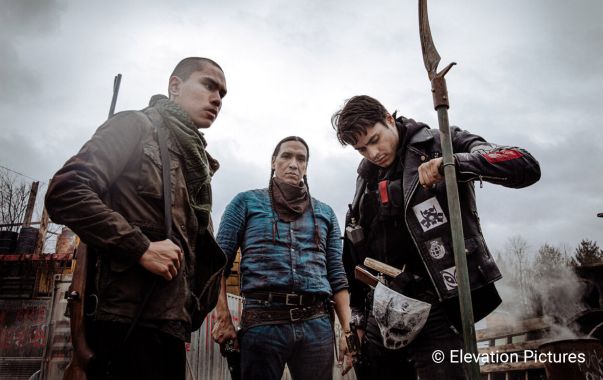 BLOOD QUANTUM
Arena 21
Free Entry
CA 2019, 96 min, Feature, OV English
D: Jeff Barnaby
With Gary Farmer, Michael Greyeyes, Elle-Máijá Tailfeathers, Forrest Goodluck
Director: Jeff Barnaby
Book: Jeff Barnaby
Cinematography: Michel St-Martin
Sound: Lynne Trepanier
Editing: Jeff Barnaby
Music: Joe Barrucco, Jeff Barnaby
Production: John Christou
BLOOD QUANTUM refers to a controversial legislation according to which a blood test decides whether one is recognised as indigenous. In Jeff Barnaby's 1981 horror thriller, members of the First Nations people are immune to the zombie virus that is ravaging Canada: They hole up in forts while everyone else tries to storm them.
BLOOD QUANTUM is a fierce criticism of colonialism, formulated as a straight genre cracker including hearty splatter interludes and mostly cast with actors from the Mi'kmak tribe: wild, subversive horror in the spirit of George A. Romero.
Jeff Barnaby is a director, writer, composer and film editor born on a Mi'gmaq reservation in Listuguj, Quebec. His award-winning debut film Rhymes for Young Ghouls (2013) premiered at the Toronto International Film Festival. Blood Quantum is his latest film.
In cooperation with /slash Film Festival
/slash Film Festival is Austria's largest event for fantastic film and presents more than sixty Austrian premieres of international highlights from the genres of horror, science fiction, fantasy and animation, as well as cult cinema, Fring & Weird Cinema, every year. Founded in 2010 by a handful of passionate people, /slash has become an internationally established fixture in the Austrian autumn of culture.