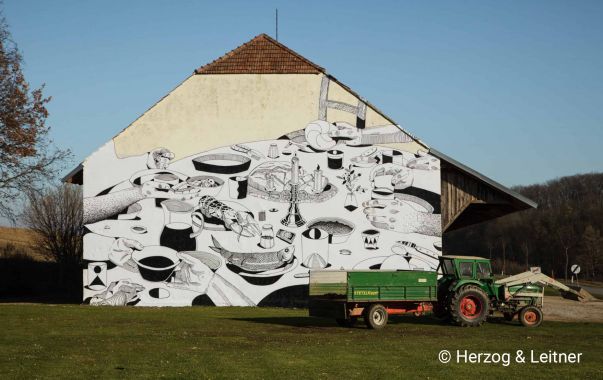 WÜRMLAS WÄNDE
Arena 21
Free Entry
AT 2019, 20 min, Documentary, OV German
D: Katharina Herzog und David Leitner
The market town of Würmla is located in the district of Tulln in Lower Austria, about 60 km away from Vienna. In the period from April 2019 to December 2019, Katharina Herzog and David Leitner initiated the art project Würmlas Wände, whereby urban street art was brought onto Würmlas rural facades. In an inspiring exchange with the local population and examination of their stories, 13 buildings were re-designed.
The project and the resulting film are an attempt to use the means of urban art not only to stimulate dialogue within the village, but also to generate exchange far beyond the village boundaries, especially between town and country, in order to eliminate prejudices and stereotypes.
Calle Libre presents WÜRMLAS WÄNDE and MY NAME IS BAGHDAD
Our long-term partner Calle Libre is presenting the 7th edition of the Calle Libre - Festival for Urban Aesthetics this year. The upcoming edition is dedicated to the title "Future Perfect":
"Metaphorically, Future Perfect represents a utopia. Utopian ideas, as unreachable as it may seem in the present, are the preliminary stage to a collective creation of awareness to any kind of societal change. "
Katharina Herzog and David Leitner work together at the interface between design and art and try to make it accessible to a wider public.