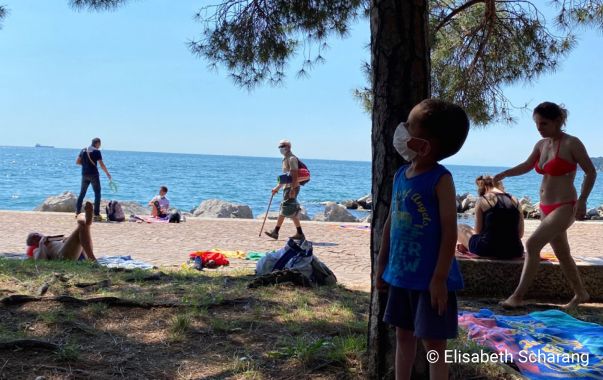 #REALTIMEEXPERIMENT
Arena 21
Free Entry
Collective, participatory art film project with readings, discussions, music and films.
THE TEAM
Martina Theininger (film maker, author and festival director Frameout)
Elisabeth Scharang (director, author)
Mirjam Bromundt (projection technician)
Ursula Hofbauer (architect, event architecture, callauding)
Tina Leisch (film worker)
Ines Kaiser (Assistance)
Constanze Cauers (project development and coordination of the framework programme)
"With sharpened eyes and ears, which the unusual and unfamiliar new life situation brought with it, we began to trust a different perception". The collective SONOVIDI will show the film FOR THE REST (working title) as a workshop project on the opening evening and the audience will hear the sound of the quarantine period and social isolation through headphones. A film project by up-and-coming filmmakers, which was started during and because of the lockdown and focuses on film sound.
LETTER TO A FRIEND shows insights into the collective state of emergency. Often funny, sometimes desperate, not seldom helpless. In 25 video messages of three minutes each, women and men talk about their everyday life during the lockdown. They live in Thailand, Japan, the USA, Germany, France, Spain and Austria. Within three minutes, they talk about their everyday life and what is currently on their minds: jogging, driving, cleaning up, in the kitchen, in front of the computer.
What unites them is a mutual friend in Vienna, to whom they tell their stories.
We are all part of a #realtimeexperiment.
In the last week of August of this Corona year 2020, the city of Vienna in late summer will be covered with film projections showing collective and personal experiences of this extraordinary time during the lockdown.
The FilmKunstProjekt #EchtzeitExperiment will be opened in the context of Frameout 2020 with readings, music, talks and films.
One of the films is currently in the making. We call on you to upload video images and to register in the database with name and date of creation of your images and to be visible at the end as co-creators*. From this material the CORONARolle, a collective film calendar, will be created.
Contributions can be uploaded here.
www.echtzeitexperiment.at