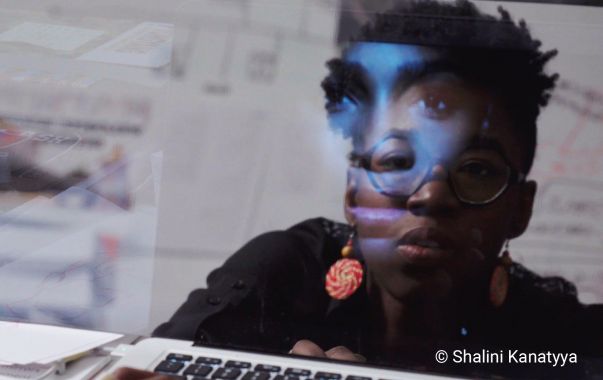 CODED BIAS
Arena 21
Free Entry
Austria Premiere, US/UK 2020, 90 min, Documentary, OV English
D: Shalini Kantayya
Director & Production: Shalini Kantayya
Co-Production: Sabine Hoffman
Cinematography: Steve Acevedo
Editing: Shalini Kantayya, Zachary Ludescher
Sound: Katya Mihailova
Dramaturgy: Christopher Seward, Paul Rachman, Kurt Engfehr
Visual Effects Supervisor: Zachary Ludescher
When Joy Buolamwini, a researcher at the MIT Media Lab, notices that most face recognition software is less capable of recognizing faces that are not read as White or male, she begins working with a white mask. Gradually, she fanned out the consolidation of structural forms of discrimination in various algorithm-based technologies.
With Coded Bias Shalini Kantayya has not only created a film that deprives algorithms of the mask of objectivity and shows that this does not exist in virtual space - she also breaks with the image of a homogenous White male tech industry. Her female protagonists show us what the future of A.I. must look like: diverse, critical and free of any form of discrimination.
Shalini Kantayya is a filmmaker, environmental activist and TED-Fellow from Brooklyn, New York. Her activist as well as cinematic focus has sometimes been on the interface of water, food and renewable energy and their connection to human rights. Her debut feature film Catching the Sun premiered at the Los Angeles Film Festival, was nominated by the Environmental Media Association for Best Documentary and subsequently released worldwide on Netflix.
Before the film, there will be an introductory discussion with Sabrina Burtscher. She is studying computer science in the Master Media and Human Centered Computing at the Vienna University of Technology. Her research focuses on (in)justice and mechanisms of inclusion and exclusion in technology and society.