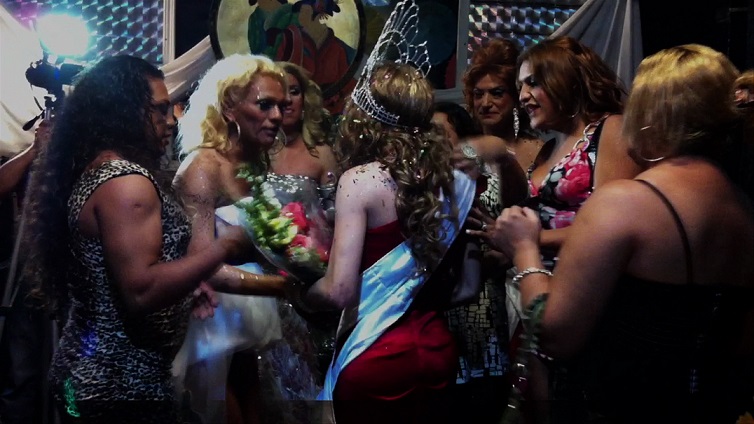 WILDNESS
Free Entry
US 2012, Documentary, 74 min., OF Englisch
Director: Wu Tsang
Director: Wu Tsang
Skript: Wu Tsang, Roya Rastegar
Production: Kathy Rivkin
Co-Production: Daniel Eduvijes Carrera, Felix Endara
DOP: Michelle Lawler
Editor: Claire Didier & Wu Tsang
Music: Nguzunguzu, Total Freedom, Robbie Williamson
WILDNESS is a cinematic self-portrait of the legendary queer Latinx club Silver Platter in Los Angeles. Since 1963, the club has been living room and stage at the same time for many migrant communities, in which up until the 2010s young artists organized WILDNESS, a weekly performance/ballroom event that led to an explosion of creativity - and conflicts with the original communities. The film documents both and is a monument not only to the kings and queens of the dance floor, but also to the WILDNESS project as a collectively organized community center.
Wu Tsang, born in 1982, is an American artist, performer, and filmmaker. Her multimedia-oriented work draws on narrative forms that are devoted to questions of identity construction. She is particularly interested in the socio-political dimensions of communities and is artistically inspired by her own involvement in the queer and transgender scene as well as the immigrant milieu of Los Angeles. For Wu Tsang, the "underground" is a place of cultural resistance and the imagination is decisive for the counter-representation of social movements. Her multi-award-winning film WILDNESS (2012) documents a legendary party venue, the meeting place for the Latin American trans community.
Presented in cooperation with QUEERTACTICS – Queer_Feminist Film Festival Vienna

QUEERTACTICS shows films from queer_feminist communities that were created for a queer_feminist audience, but are rarely seen on the big screen. QUEERTACTICS is essentially about finding and presenting anti-normative or at least non-normative emancipatory forms of cinema - entirely in the sense of showing challenges and alternatives to heteronormativity.