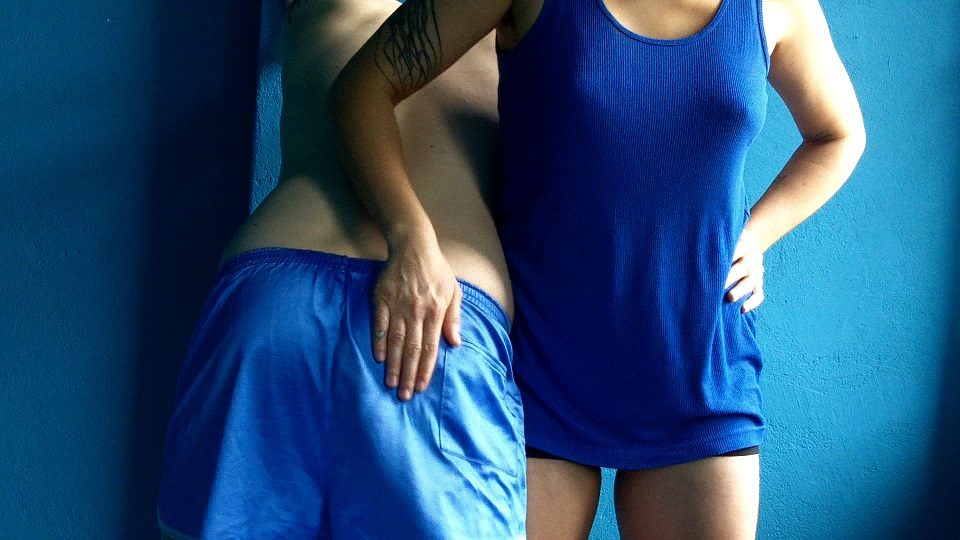 HUNGRY BABIES: Varieties of the performative music video
MQ Arena 21
Free Entry
In the presence of Jessica Manstetten (curator)
Performance video is the supreme discipline of the music video. The musical mainstream is primarily dominated by charmlessly choreographed works in glossy settings without intermediate tones or randomness. But the performance video can be so much more: Manifesto, indictment, rebellion. Search, self-empowerment against expectations and representational templates, against visible and invisible manifestations of violence, against binary codifications of body, gender and identity. The liberating power here lies in the simplicity of the staging, which creates forms of expression for social and subjective moods. Performance as a play between what is and what we imagine, between body and space, between image and music. Ritual, rhythm, repetition. A foray through the 2000s with 15 video works from 2003 to 2021 - subversive, explosive, vulnerable, playful.
The One (Sandra Hüller)
Leopold Emmen (Nanouk Leopold and Daan Emmen), Netherlands, 2020, 2'24''
There is something strangely heroic about the way the character in this scene tries to find her place and the appropriate pose in the empty space. The desire to bend the situation and regain control was a feeling that was also very present in the song. Allowing yourself to be turned upside down can lead to a beautiful discovery.
Convenient, Sacred, Blessed (Maud)
Vika Kirchenbauer, Germany 2015, 3'30''
Are we seeing a sports massage, a build-up ritual, a depiction of physical abuse, or a description of tenderness where gestures stand for emotional depth as a matter of course? The video is pretty vague, as are the characters in it.
Fool (FrontMan)
Juliana Oliveira, Germany 2021 3'42"
Don't be afraid to jump in at the deep end. "FOOL": the first music video in the more than 50-years band history of the legendary FrontMan. The "Godfathers of Rock'n'Roll" remain true to their unpredictability and prove once again that they like to make big waves. Hold your breath!
Hungry Baby (Kim Gordon)
Clara Balzary, USA, 2021, 5'41''
Hungry Baby shows ways in which women can occupy emotional and physical space under the weight of patriarchy. Balzary shot in a deserted parking lot that conveys a sense of dread. Against this deserted backdrop, Coco Gordon-Moore gives free rein to her accumulated rage, taking control and leaving us with a life-affirming feeling.
Portadoras queer: el doble y la repetición (Ascii.Disko)
Ana Laura Aláez, USA/Japan/Spain, 2020, 15'39''
The video explores different degrees of rebelliousness in a representation of multiple femininity. A reverse music video where the sound was created by the electronic music project Ascii.Disko to the images. The characters in the video are carriers of non-binary identities in constant movement. Each of them acts as a contemporary demiurge: in search of their personal expressions, no matter how many times they fall while trying to create themselves.

Hood (Perfume Genius)
Winston H. Case, USA 2012, 2'
Hungarian porn actor Arpad Miklos, who died in 2013, lovingly tends to the appearance of Mike Hadreas a.k.a. Perfume Genius as he sings into the camera. The visual contrast of the pair is captivating, as is the tenderness of their gestures. Masquerade exposes layers.
Trying to Forget You (Aérea Negrot)
Aérea Negrot, Simon*e Pateau, Germany 2019, 7'56''
A phone call, and a few hours later the video shoot took place in Berlin. In the middle of the night, a disappointed finds music in the arms of beautiful strangers. A work that balances between beauty and confrontational energy, instinctive and humorous.
Relay Runner (Loma)
Emily Cross, Allison Beondé, USA 2018, 5'50''
In the desert of Monahans in Texas, Emily Cross, lead singer of Loma, constructs a mental obstacle course out of hardware store materials, which she masterfully completes. At each station, she passes a version of herself to the next version.
Nigga Needs (Boogie)
Gina Gammell, Riley Keough, USA 2016, 3'
An intense meditation on the nature of performance and audience. In a white museum space, two battered miniature boogies on white pedestals rap to a white, elderly museum audience. The multiple " silent whiteness" encircles the rapper's literal being exposed.
This is England (Farai)
TONE, UK 2018, 3'13''
Shot in black and white, as a reflection of feelings in the demoralizing times of austerity, where the world is divided into black and white, extremes, polarizing opposites, good, bad, always, never, hope and fear.
Voodoo in My Blood (Massive Attack feat. Young Fathers)
Ringan Ledwidge, GB 2016, 5'20''
Adapted from the subway scene in "Possession," the classic horror film by Andrzej Żuławski, Rosamund Pike has an eerie encounter of the third kind here. A floating sphere gains control of her body and pushes a furiously performing Pike to her limits.
Animals (Oneohtrix Point Never)
Rick Alverson, GB 2016, 4'
The first work in a series for the Hammer Museum, "Ecco: The Videos of Oneohtrix Point Never and Related Works" shows Val Kilmer in an unusual setting. The camera circles a bedroom where the Hollywood actor sits on a bed with his eyes closed listening to "Animals." Or sleeping? Man and space seem to have sprung from two different time zones, and the single-frame technique makes Kilmer flicker.
Corporate Cannibal (Grace Jones)
Nick Hooker, USA 2008, 6'
Jones breaks away from the gravity of her body, which has always been marked as "black" and "androgynous." In a sharp black and white contrast, the musician's physique is imagined here as a mercurial matter, iridescent and viscous. Head and torso are modulated in fluid movement, and Jones enjoys us on her plate as she does so.