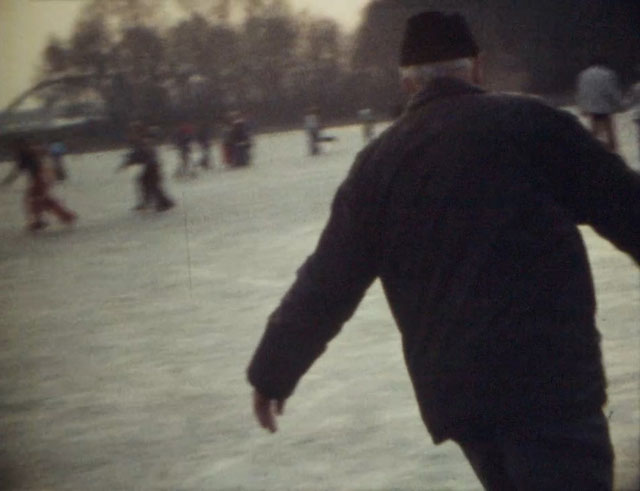 ON PERSONAL ARCHIVES AND IMAGES TRAVELING IN TIME
MQ Arena 21
Free Entry
In the presence of the filmmakers Lia Sudermann and Simon Nagy (Invisible Hands) as well as the curators Lisa Heuschober and Martina Genetti.
Four films explore personal archives – four different perspectives on documenting past everyday life. In home movies, amateur films and old photo albums, the forgotten, the repressed, the beloved can be found: The images evoke, preserve, construct and unmask memories and ultimately open up a reflection on the need to hold on to them, to pass them on and to resist invisibility and processes of forgetting.

ON PERSONAL ARCHIVES AND IMAGES TRAVELING IN TIME is dedicated to memories that often go unheard, that are forgotten or left behind, that remain inaccessible due to their assignment to the private sphere or, in their fragmentary nature, do not find a suitable language. Yet in the films, it is precisely the gaps that begin to tell stories - of that which so often remains hidden within the image: they talk about the smells and sounds of the past, the faces that have disappeared from the images and memories, about the seemingly everyday, the obvious - and yet invisible.

The films give insights into the private and the everyday, while their stories become relatable, unfold multifaceted points of contact and establish references to collective memories and current experiences.
Smells
ES 2022, 10 min., Kurzfilm, OmeU
Regie: Alba Esquinas
SMELLS ventures into the space of smells and sounds of the past, into a fictional childhood marked by the smell of blood, flesh and bleach: "To think about my childhood is to think about smells". The laughter of playing children, the sharpening of knives and the screams of dying pigs are merged with black and white photos. The smells, however, remain hidden – opening up a reflection on the possibilities and impossibilities of passing on memories.

I Am Trying to Remember
IR/CZ 2021, 15 min., Kurzfilm, OmeU
Regie: Pegah Ahangarani
An erased face in a photo, a gap in history: with a camera, Gholam captured his friends, family and the Iranian revolution – but he himself has disappeared from the pictures. 30 years later, the filmmaker tries to remember Gholam and tells the story of how he disappeared from her life, the family photo album and the conversations. Her search reveals how personal memories are entangled with collective history and how memory is always politically contested.

How Do You Measure A Year?
US 2021, 29 min., Kurzfilm, OF Englisch
Regie: Jay Rosenblatt
What do you dream about? What scares you? What do you think about our relationship? In the form of a personal tradition, Jay Rosenblatt asks his daughter the same questions on her birthday for 17 years. These short, ephemeral and never representative excerpts assemble - eventually forming a portrait about growing up and becoming independent, about the relationship between daughter and father. An intimate archive of memories unfolds which poses the question of how time can be measured and recorded.

Invisible Hands
AT 2022, 12 min., Kurzfilm, OmeU
Regie: Lia Sudermann & Simon Nagy
Hands washing dishes, tables are being set and Christmas trees decorated. Through home movies and amateur films from the 60s and 70s, the filmmakers address the obvious and yet invisible: Work. Caring hands are not only loving hands, they are above all working hands. Disguised behind concepts of "everyday life" and "leisure", a continuity of invisibility is addressed, one that lasts until today.
This program is the result of a collaboration between film curators Martina Genetti and Lisa Heuschober.

Together, Martina Genetti and Lisa Heuschober work in diverse projects with video and film works that engage with various archives and place (re)found images in new contexts. In doing so, they deal with gaze regimes, reflect on (in)visibilities in narratives, and question historiography through archive and collection.

As a film curator and art historian, Martina Genetti deals with monuments, historiography, and culture of remembrance. Together with Filmclub Tacheles she organized the Filmreihe Beckermann at the University of Vienna in 2022. She is a co-founder of the film distribution company KINEMA 21 and recently became the director of the film competition at the YOUKI International Youth Media Festival.

Lisa Heuschober is a curator and cultural worker. Her interests lie in the design of cinematic spaces that are places for interaction, collectivity, and interdisciplinary creative processes. She has been frame[o]ut's head of programme since 2022.