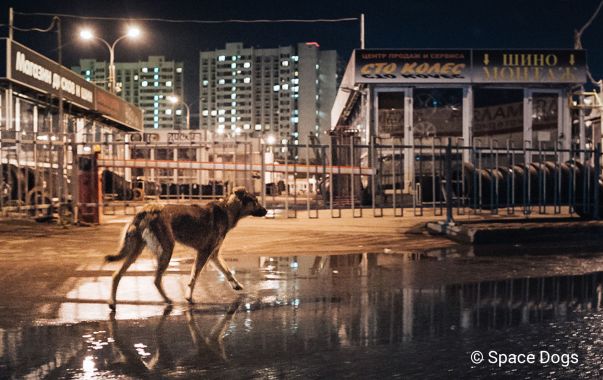 SPACE DOGS [PREVIEW]
Arena 21
Free Entry
AT/DE 2018, 91 min, Documentary, OV with English subtitles
D: Elsa Kremser, Levin Peter
Directors, Booc & Production: Elsa Kremser, Levin Peter
Cinematography: Yunus Roy Imer
Editing: Jan Soldat, Stephan Bechinger
Sound: Simon Peter, Jonathan Schorr
Co-Production: Annekatrin Hendel
It was a street dog from Moscow that was the first living being sent into space. She did not survive the return to Earth. After her, many more street dogs from Moscow started their journey into space as dog-cosmonauts. SPACE DOGS tells their story, unpublished archive material documents this bizarre episode from the era of Soviet space travel. There are still street dogs in Moscow - SPACE DOGS follows two of them from the dogs' perspective through the streets of the Russian metropolis. A visually stunning journey through space and time, which not only provides insights into the lives of the dogs.
Elsa Kremser, born 1985 in Wolfsberg/Austria, studied Film Studies at the University of Vienna. At the Film Academy Ludwigburg she realised several documentary films as author and producer which were shown worldwide. She was part of the jury of Visions du Réel, and completed the Nipkow and EuroDoc programs. In 2016 she founded RAUMZEITFILM Produktion in Vienna with Levin Peter.
Levin Peter, born 1985 in Jena/Germany, made several documentary films during his studies at the Film Academy Ludwigsburg which were shown worldwide. His diploma film HINTER DEM SCHNEESTURM won the First Steps Award and was presented as a guest of the Berlinale Perspektive. He was also part of the jury of Visions du Réel and received the Nipkow and Gerd Ruge scholarships.